As a small business owner, there are many responsibilities to contend with on a daily basis. Overhead costs, employees, products, customers, and competition to name a few. But many small business owners forget that at the root of all business growth is marketing. In today's world, online marketing is the fastest and most accessible way to gain new audiences, and retain existing clients. Organic search visibility, content creation, paid advertising, and social media all play a part in successful online marketing. Searched Marketing compiles all of these strategies into one cohesive marketing plan to help you understand and how to grow your small business with marketing.
Tips On How To Grow Your Small Business With Marketing
#1 Set A Budget
First and foremost, you must plan and set a budget for your yearly marketing spend. Online marketing is not a one-time effort. It must be monitored and optimized month after month. The Small Business Association states that "As a general rule, small businesses with revenues less than $5 million should allocate 7-8 percent of their revenues to marketing. This budget should be split between 1) brand development costs (which includes all the channels you use to promote your brand such as your website, blogs, sales collateral, etc.), and 2) the costs of promoting your business (campaigns, advertising, events, etc.)."
#2 Create A Cross-Channel Strategy
Effective online marketing cannot be reached by only keying in on one or two pieces of the pie. In today's competitive online search battle, a small business must diversify its marketing across all pertinent channels and have a strategy in place for those respective channel's best practices. Organic search visibility, content and blog creation, keyword optimization, pay-per-click advertising, Google My Business listings, and social media management must all work together in concert to fully engage your target audience and wanted clients and customers.
#3 Mobile First, Mobile Fast
Google measures your online website against many variables, technically and content-wise. With Google's Mobile-First Indexing which began in 2018, mobile site speed, page load, and usability have risen to the top of the Google ranking factors. Google's users live in a mobile world, and as such, Google wants to see the mobile version of your site as the benchmark for your online presence. When mobile site speed suffers, so do your rankings. When page load times increase, so do your user bounce rates. All of this technical optimization needs constant care and monitoring by seasoned developers.
#4 Build A Reputation
A sound and solid review engine are crucial to online marketing success. You have to build the trust and reputation for your customers and clients to choose you, stay loyal to you, and spread the word about your business in a positive light. 9 out of 10 online users read reviews before making their decision and product reviews and service reviews obtain 3.5 times the amount of conversions than those without. A 5-star rating amongst a large cross-section of your user base shows that your business is consistent, concerned about customer satisfaction, and are willing to go the extra mile for your target audience.
#5 Marketing Wins Take Time
Rome wasn't built in a day, and neither will your online visibility and success. Online marketing and organic visibility take time, patience, and expertise. Consider your traditional marketing as a boat. It has crested upon the surface of the sea, grabbing the attention of all that see it. Now consider the depths of the ocean your online audience. And you need to convert your boat into a submarine to begin the exploration. This takes time and planning. A good online marketing plan takes an average of 3 to 6 months to take hold and attract the target audience set in the beginning strategy. 6 – 12 months to outperform your competition, gain the market share of organic visibility, and prove your business as the domain authority to search engines and crawlers.
Searched Marketing has a plan for you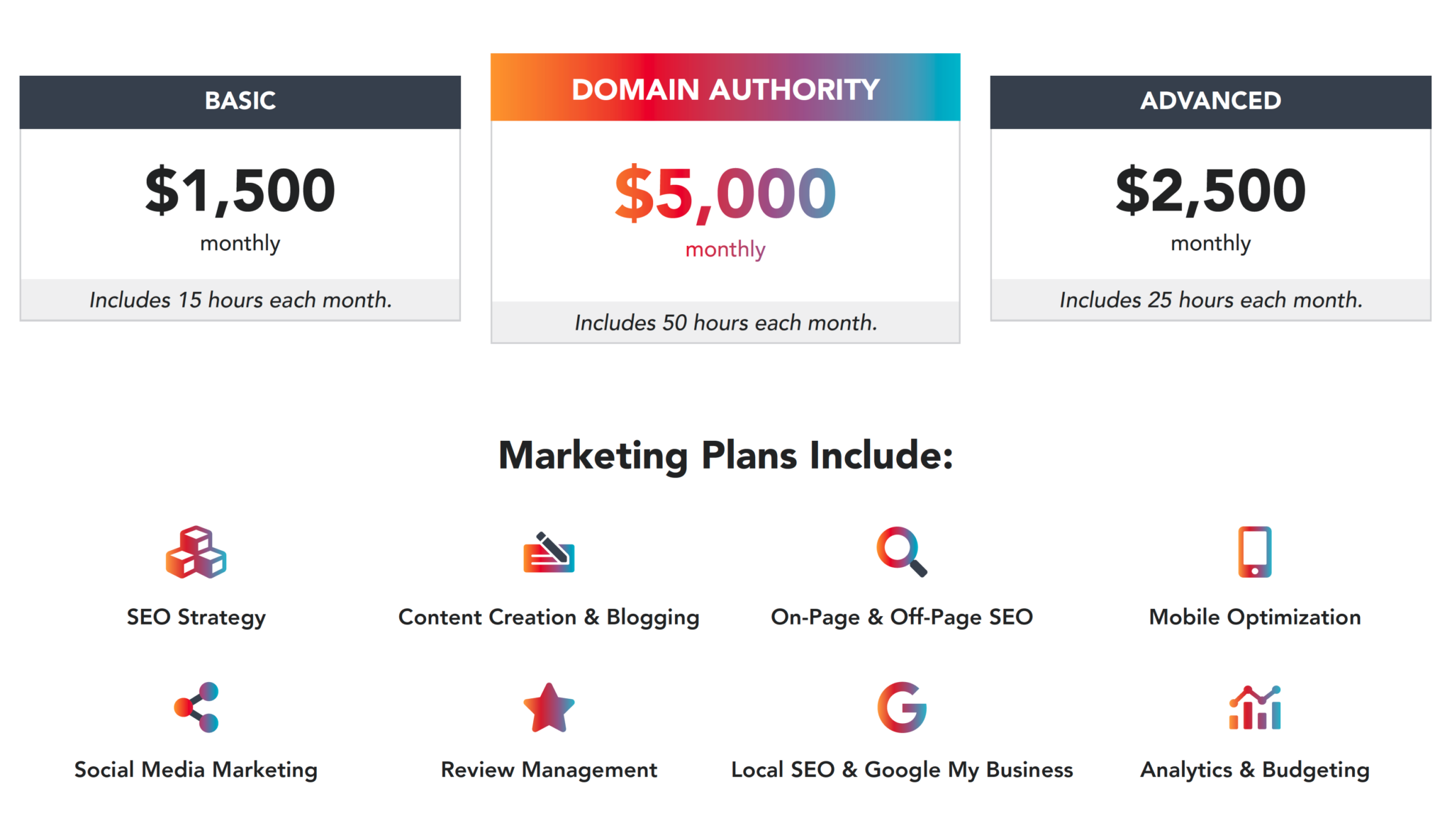 With three set plans, and custom plans available, Searched Marketing is making it easy for your small business to thrive online and create the lead generation you are looking for. Each plan begins with keyword analysis, content strategy, and target audience research to maximize your hours and monthly spend.
With Search Marketing you will receive:
Transparent Monthly Reporting & Analytics
On-Page & Off Page SEO & Content Creation
Blog Creation & Distribution
Mobile Page Speed & Page Load Time Optimization
Review Generation & Managemt
Local SEO and Googe My Business Optimization
Are You Ready To Market Your Small Business Online?
Our team of digital marketing experts creates custom content strategies to grow your audience on web and mobile channels. Our marketing services are for small to large corporations, medical companies, e-Commerce stores, local businesses, and publicly traded companies and can help build solid foundations to generate new leads and grow real results.
We have a deep understanding of our client's target audience and user habits and behavior. Our dedicated team of digital marketers in tech and design goes beyond the ordinary to reach your target audience. Our digital marketing teams are SEO experts, focusing on professional B2B and B2C marketing, digital strategy, and user experience.
Integrated philosophy is at our core. We know what maximizes your brand performance and we pride ourselves on the vast level of knowledge and expertise we have developed over the years. We help companies manage and optimize internet marketing campaigns that attract, engage, convert, and retain your customers. Contact us online or call us today at 404-835-7876 to get started with your online marketing plan!