Google My Business was created in June of 2014 to provide a comprehensive listing for business owners to be discovered in the Google search engine and Google maps. This creation was aimed at giving business owners more detailed control over what appeared when their business was searched. Google added the tag line "Discover what works best for your customers", encouraging business owners to take command of their target audiences and their behaviors in efforts to connect, engage, retain, build loyalty, and build trust with the Google review system.
Google My Business is a free service to all and does take an involved setup process, but the benefits of the service far outweigh it. If you want to be at the forefront of Google's search listings in the vertical your business lies in, a Google My Business account is a must.
Here are the key features to a Google My Business profile
#1 Google Reviews
Today reviews are everything when it comes to online search and eCommerce. Users trust reviewed products and businesses far more than ones that are not. And a GMB listing lets you respond to any and all reviews that come into your business. This personal touch and interaction builds brand loyalty, trust, and allows your users to feel important and heard by their interactions with your brand. Google states that. "According to consumers, businesses that respond to reviews are 1.7X more trustworthy than businesses who don't (76% vs. 46%).*
#2 Google Local Listings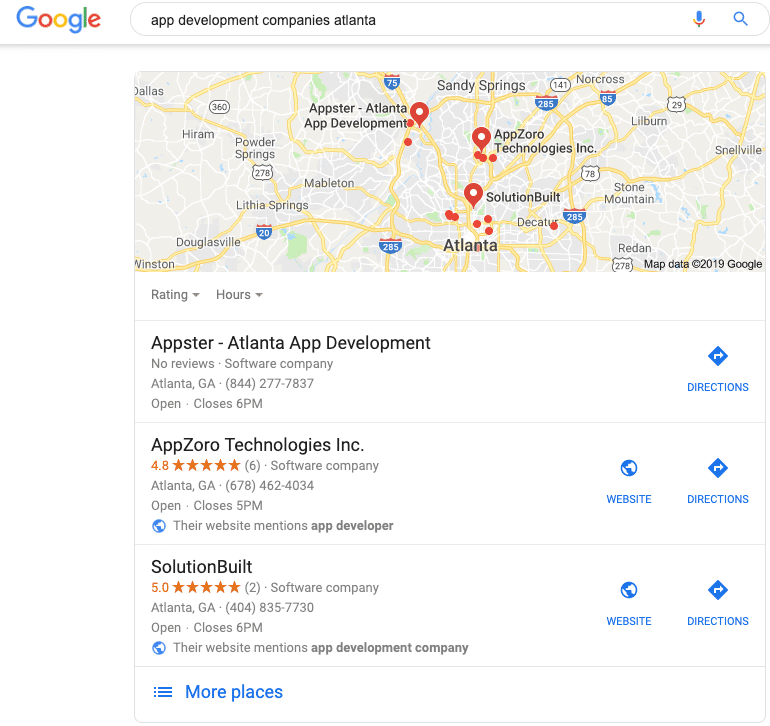 A Google My Business profile also helps with local search. The Google Local listing is the box on the first page of search results which displays three businesses and their locations on Google maps. This placement has immense advantages to gaining a new user as consumers are more likely to visit a business near them than one further away. 72% of consumers, who search for local businesses, end up visiting stores within five miles. (Hubspot), while 88% of consumer local business searches on a mobile device either call or visit the business within 24 hours. (Nectafy).
#3 Google My Business Posts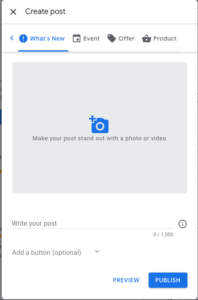 GMB allows business owners to create posts in their listing to help inform, engage, and convert target users. There are 4 categories in posts that are available to GMB profile owners. What's New, Event, Offer, and Product. If you have an eCommerce store, the Product posts are great ways to show your users new items straight from your search listings. Events allow pre-registration and signups just a click away. Promote your business' specials and discounts with Offers. And keep your customer in the know about new happenings with What's New. Google My Business posts should be looked at just like any other social platform your business is on.
#4 Google My Business App
Google created a fabulous mobile app to run all of these features and with it, you can also set up Messaging for your customers. Messaging allows users to contact you directly through your GMB listing. Another quick and easy way to stay engaged with your customers. The app also allows you to edit business info, manage and create posts, and respond to all incoming user reviews. Like the GMB profile, the app is also free to use.
Google My Business is an amazing tool that comes free of charge. But it needs to be properly set up, maintained, and used regularly for it to help with your online search and audience engagement. Searched Marketing manages Google My Business for all of our clients and can help you reach your target audience with a strategic plan for online search, local search, Google Maps, and continued content to best outfit your business with search visibility success.
Search Engine Optimization in Atlanta, GA
We stay on top of internet marketing trends, ensure that you are above your competition, and engage the user by building trust along the way to establish your business as the industry authority.
Our in-house SEO experts build a custom strategy based on your unique needs. We start all SEO campaigns with a custom digital strategy that includes keyword and market research, goals and timeframes setup, lead and goal tracking set up, execute SEO campaign, collect and evaluate data, and more. This helps establish a strong framework and drive quality conversions. We design and manage Search Engine Marketing (SEM) solutions that make your website findable and drive quality website visits and conversions. Call us today at 404-334-5686 or connect with us online.